Flexing Our Creative Muscle
At Articulate Solutions, we love to take on projects that utilize our diverse team's various talents and skills in fun new ways. A recent social media marketing campaign for the City of Morgan Hill gave everyone the chance to stretch a little—both creatively and physically!
Kicking Things Off
Over the years, we've worked with various departments at the City of Morgan Hill on a wide range of graphic design, marketing, and community outreach projects. In mid-June 2021, as things finally started to open back up after the COVID-19 shutdown, representatives from the city's Recreation department contacted us to see if we could help them boost membership at the Morgan Hill Centennial Recreation Center (CRC) and Aquatics Center.
At a Zoom kickoff meeting, we brainstormed ideas for a social media campaign that would promote all the benefits of membership to Morgan Hill residents—and encourage them to come back after months of having to exercise at home.
The client wanted to get started ASAP, so we wasted no time getting to work!
Jumping in the Deep End
We've learned from experience that vibrant photos and videos can make all the difference when it comes to social media engagement. Fortunately, Chi Nguyen (our Associate Art Director) and Jason Raby (our Chief Marketing Officer) are also both talented photographers and videographers, so they scheduled a full day to take photos and video footage at both the CRC Fitness Center and Aquatics Center.
They had a long but fun day getting multiple shots of everything from exercise classes and cardio machines to lap swimming and super-splashy waterslides. Jason even stepped in to serve as a model (and pump up his triceps) on the weight machine!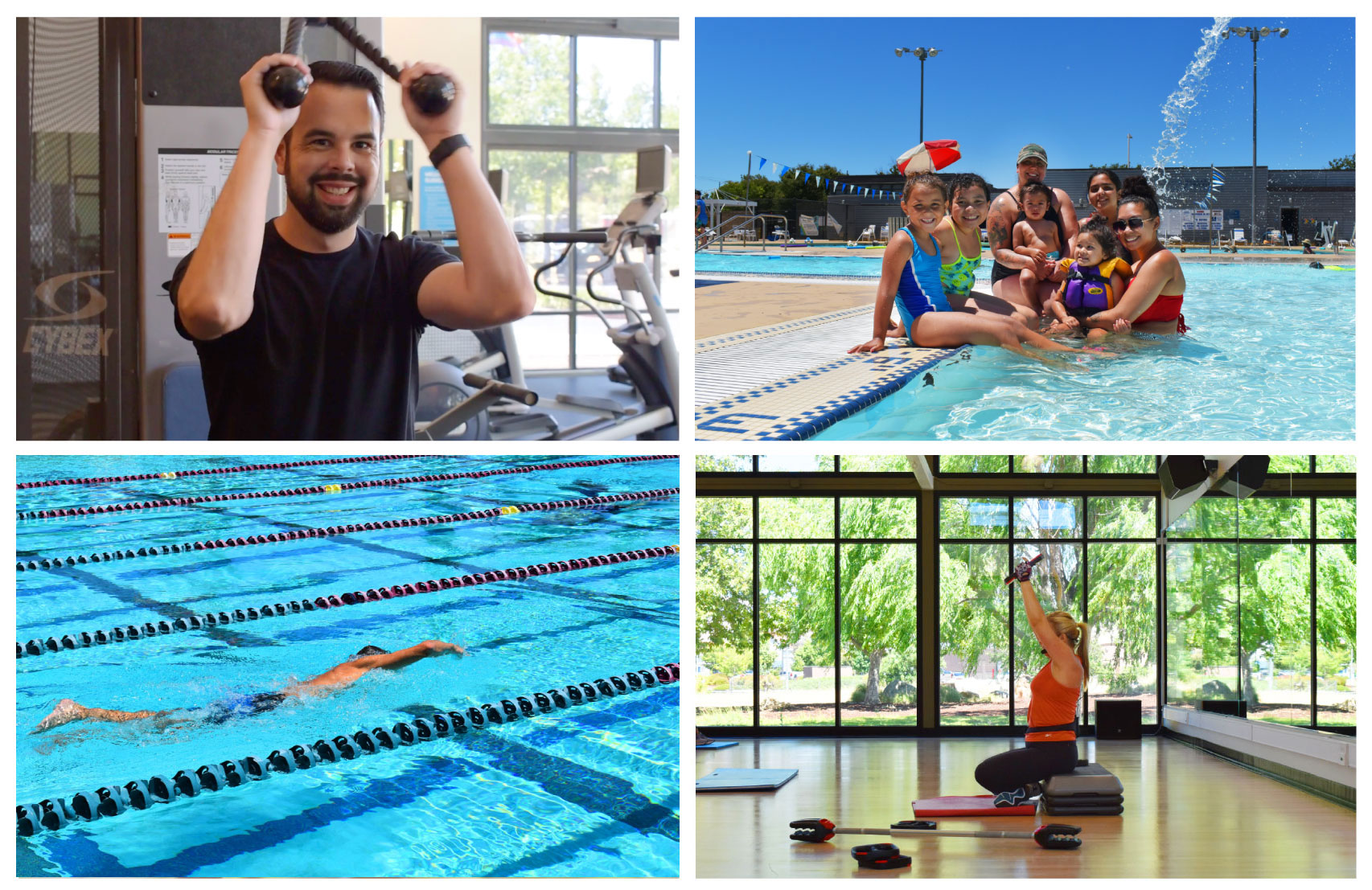 Putting It All Together
Julie Jackson (our Senior Writer) wrote some brief scripts to accompany the videos, created the tagline "The Morgan Hill CRC is the center of our community—come join us today!", and wrote several social media posts to accompany the new photos and videos.
We had professional voice talent record the scripts, sourced some upbeat background music, and then threw all the files over the virtual wall to our Senior Designer, Marcos Sanchez (who works remotely from his home in Austin, Texas).
An experienced graphic designer, Marcos was able to take advantage of the pandemic-induced "slow time" to beef up his video editing and animation skills. So he was well-prepared to crank out several short videos that were full of energy, fun, and happy families—perfect for posting on social media.
Meanwhile, back at her computer, Chi designed a variety of colorful templates that the CRC and Aquatics Center can use to accompany the videos and other social media posts and announcements.
Making a Splash
Thanks to the combined efforts of our multi-talented creative team, we were able to deliver a complete package of social media graphics, posts, templates, and videos in just a few weeks. The client also got some great photo and video assets that can be used for years to come.
"Watching these videos for the first time, we were so excited that we actually got chills!" said Nichole Martin, Community Services Supervisor for the City of Morgan Hill. "We love the mix of images and formats. We're grateful to the Articulate team for doing such a beautiful job showcasing the highlights of our facilities and helping us get the message out to our local community."
We loved collaborating with Nichole, Jennie, and Jessica at the City of Morgan Hill—and look forward to "working out" together on more fun projects like this!
—————
BAY AREA GRAPHIC DESIGN AND MARKETING
Articulate Solutions is an award-winning Bay Area creative agency with nearly 30 years of experience in brand identity, graphic design, social media marketing, and more. We have a long list of loyal clients in the South Bay, Silicon Valley, and beyond. Ready to put our creative team to work for you? Contact us today to get started.
Posted on August 11, 2021